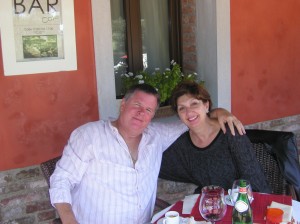 Twenty-four years ago, Ken and I realized our dream to own a home in the Piemonte region. The breathtaking foothills that offered myriad majestic views, the harvest of grapes that produced moscato, barolo, barbera, barbaresco and roero wines, the bounty of hazelnuts, porcinis and truffles were reasons enough to persuade one to purchase property in this idyllic region.
The most persuasive reason was that my sister, Elena, and her husband, Antonio, lived in Piemonte while tending to their vineyards and hazelnut orchards. Their presence would offer us a deeper familial relationship and provide watchful eyes on our home during our absences.
Finding Casa Forcellini, named to honour my father, remains an indelible memory. After viewing ten properties, my sister became frustrated with our expectations of finding the perfect home away from home. Electricity, running water and an unforgettable view did not seem to be unreasonable demands. Many of the properties required extensive renovations that we would have difficulty overseeing from Canada. To place this burden upon my sister and Antonio would be challenging given that their land required much of their attention.
Upon our return to my sister's home, I silently offered a prayer to my dad asking him to give me a sign that would guide me in our search or, at the very least, indicate to us that this may not be our destiny. As we managed the turns along the winding ascent to my sister's home, I noticed once again the ubiquitous trees seen along roads and in fields. "What are those trees called?" I asked. "They're Canadian poplars, a fast growing cash crop."
I knew then that there was a home for us in close proximity. My sister mentioned that Signor Giacolin may be interested in selling since he had not been feeling well. Seeing the terrazzo and the relatively modern structure of the home gave me great hope. Upon viewing the home, I knew this was the one waiting for us to claim as our own. My husband joined me within a few days and confirmed my feelings.
In retrospect, the decision to purchase property in Piemonte, was one of the best decisions we have made. The cultivation of friendships, travel and culinary experiences, the accessibility to mountains, sea, cities, hilltop towns, art and architecture as well as the soothing solitude provided by the view from our terrazzo have all contributed to a feeling of enormous gratitude.
In the morning light, we can indulge ourselves with breakfast on the upper terrazzo. While gazing at Cessole nestled in the foothill across the river valley, one can hear the gurgling sound of the stone fountain below the terrazzo. The afternoon sun persuades us to enjoy the shade of the lower terrazzo. Here we can dine, retreat to the outdoor living room where one more glass of chilled wine can be enjoyed and finally rest in the double hammock while surrounded by nature's bountiful beauty.
Our home has not only given us the enormous pleasure of its beauty and comfort but we have been able to share it with family, friends, acquaintances and strangers. The testimonials submitted by those who have spent time at Casa Forcellini give us such enormous pleasure. One, in particular, remains the cornerstone of our feelings. Paul V. Ginkel, an artist, wrote, "The duomo of Milan and David of Florence took my breath away but the view from your terrazzo gave me breath."