Bubbio is very active socially and hosts numerous events throughout the year. The premier event of the year is the Sagra del Polentone.
The first Sunday after Easter, Bubbio is alive with anticipation for the events of the day. Tradition has it that the owners of the castle had taken pity on the poor and hungry of the village prompting them to release their stores of ground corn. Great ceremony follows the corn meal with the townspeople in traditional dress accompanied by bands and beautifully dressed "flag tossers" .
They move down the street from the castle to the town's main piazza. The gigantic copper kettle awaits the corn meal and the cooking begins. Hugh wooden paddles constantly stir the mush with the men of the village taking turns to consistently stir the golden mass.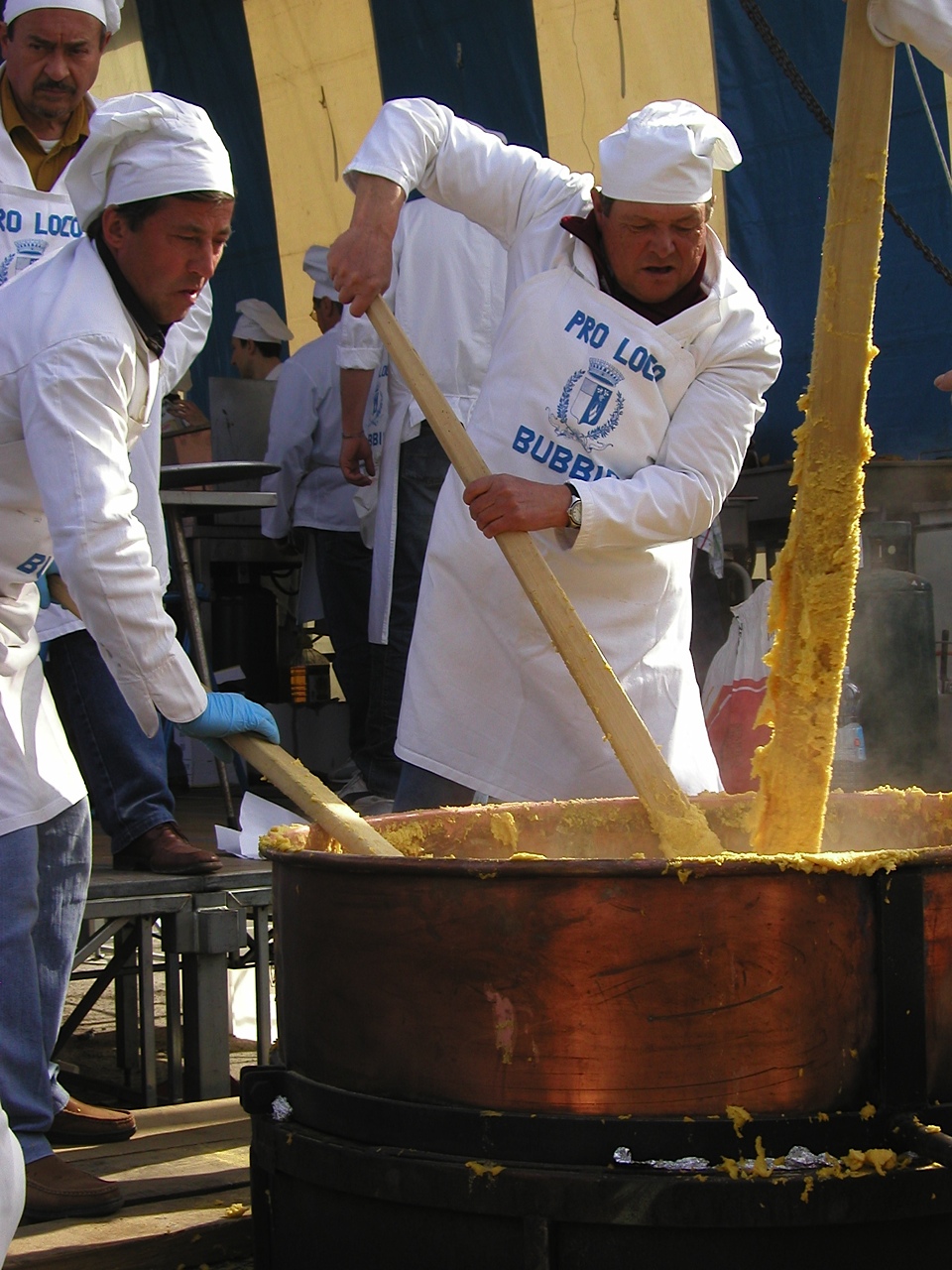 While the hard work is being is being done by the men of the village, the spectators are entertained by bands , speeches and of course the spectacularly and colourfully costumed "flag tossers".
Finally at around 5:00 p.m. the signal is given and the Polenta is ready. It is time to line-up and get your serving of polenta, sauce, sausages, and frittata.
Good luck in the line-up! This is an Italian line-up, in other words a mob pressing forward all at once. The push to the front is amusing and well worth the effort.
Bubbio is a charming and friendly town. If you are inclined to visit Bubbio, do get there the night before the Polentone event since there are many activities.
Wine and food stations scattered throughout the town. This gives you the opportunity to taste local traditional food and drink some of the local wine. Entertainment can include singing and traditional folkdances.
When entering the town, do remember to buy your plastic cup on a string to hang around your neck. Hand pulled carts loaded with barrels of local wine will provide ample opportunities to fill and refill your cup.