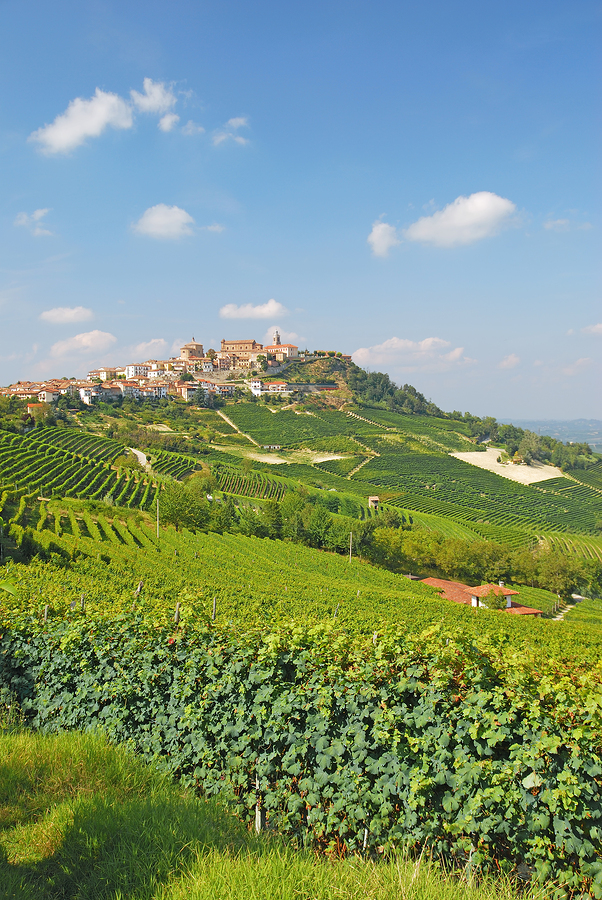 Big, bold Barolo is the pride of the Piedmonte region, boasting the distinction of the Denominazione di Originale Controllata Grantita and the prestige of being labelled "The King of Wines and the Wine of Kings." This statement-making wine is recognised for its firm tannins and famed "tar and roses" aroma. It is sensually fruity, with hints of cherry, chocolate and truffle, all underscored by meatier elements of leather and spices.
Barolo is cultivated in five zones that stretch along the undulating hills of this North Western Italian region. Notable western areas are the town of Barolo itself and La Morra, about 11 kilometres from Alba. The communes to the east comprise of Castiglione Falletto, Servalunga d'Alba and Monforte d'Alba.
The discrepancies in soil distinction between the eastern and western communes give rise to two different types of Barolo. This is because the Nebbiola grape from which it is made is extremely sensitive to light, heat and soil type. Western Barolos are lighter and fruitier, as the calcerous marl of this area is distinctly younger and rice in magnesium. To the east, one finds richer soils heavy in iron. This gives rise to a more powerful wine with notable longevity.
In fact, the Nebbiolo grape rarely thrives anywhere but Piedmonte, making Barolo exclusive to the region. Nebbiolo grapes need sun to ripen, although too much heat interferes with the wine's aroma. They grow particularly well in the afternoon mists of the harvest season, which shields them from any excesses in heat and light – hence "Nebbiolo," which derived from "nebbia," the Italian word for fog.
In order to earn the distinction of the title of "Barolo," wine must age for thirty-eight months, eighteen of which must be in a barrel. Indeed, traditional Barolo is noted for its slow and easy journey to maturation, fermenting in chestnut barrels for long periods. This process gives rise to complex, long-lived wines, the tannins of which soften beautifully with age.
However, in the nineteen-eighties, this process was jarringly countered by faster processing methods that sought to keep up with the contemporary palate – and marketplace. Shorter, controlled fermentation processes were implemented, with chestnut being replaced with French new oak. As expected, this new Barolo-making process gave rise an entirely new variety of the wine catalysing what became known as The Barolo Wars, and often heated clash of tradition versus modernization.
In terms of food pairing, Barolo is the life of the party. It threatens to overpower any dish that does not match it in terms of boldness and flavour. Thankfully, traditional Piedmontese cuisine rises to the occasion, with its hearty meats and flavoursome pasta sauces. Barolo will handsomely complement any risotto al funghi porcini or vitello all Piedmontese. Look to old, crumble-style cheeses like Parmigiano Reggiano and Pecorino vecchio. Pair with pastas with robust tomato or truffle-based sauces.
It is possible to experience the prestigious tradition of Barolo wine on a trip to the town of the same name. Visit the Marchesi di Barolo for an exclusive tasting, and experience first-hand the delicate variations of one of Italy's most treasured wines.